Expert services – We come to you
Although the company was founded to repair and refurbish boats – sail or power, small or large – its reputation for excellence has resulted in its client base expanding to include not just damage repairs and refurbishments, but now also embraces superyacht pool and jacuzzi total resurfacing and houseboat builds and renovations.
Our skilled workforce travel anywhere necessary to attend to our customers' needs, both in the UK and abroad, so no matter where you are in the world, we can be there. For those who wish to bring their boats to us, we have lift-out and full yard facilities at Universal Marina, near Southampton.
Invisible repairs, seamless renovations
Established in 1992, GRP Boat Repair Specialists Ltd is owned and led by Julian Willmott. His experience in the yachting industry dates back over 40 years, with several years building fishing boats in Iceland and even earlier when learning the trade. Julian's knowledge and expertise has enabled him to turn boat repair into an art, rather than a job. And because Julian's passion is boats, when he undertakes work for his clients he treats each craft as his own and bestows time and care with astonishing attention to detail. He is augmented by a team of skilled operators, whose expertise has earned the company its reputation for very high-quality workmanship. GRP Boat Repair Specialists works with marina operators, boatyards, charter companies, insurance companies, surveyors and private owners to provide the very best in repair and refurbishment.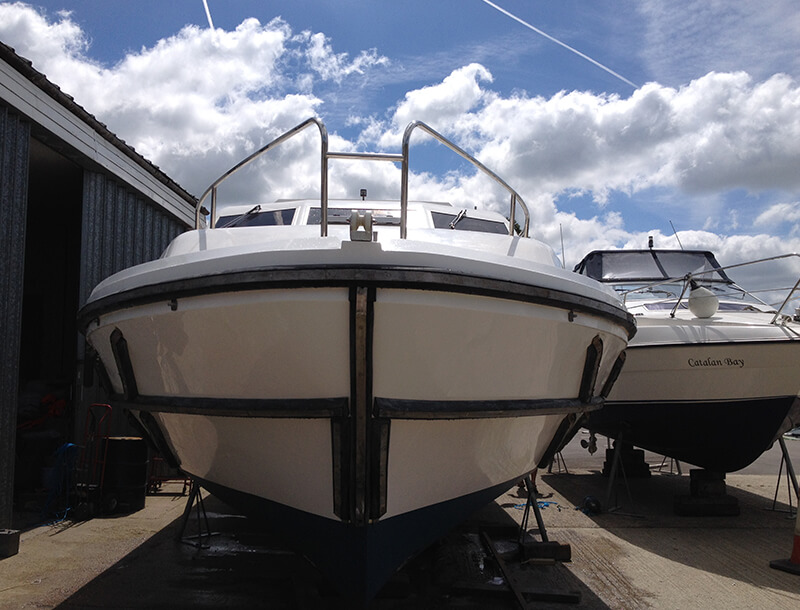 "Julian is an extremely professional and highly motivated individual who works to the highest standard."
"I have used GRP Boat Repair Specialists several times to repair gel work and glassfibre on our RIBs and on each occasion the work was completed very quickly and the results were excellent. One could not see where the repairs had been carried out. First class."
"GRP Boat Repair Specialists' services have all been to an exemplary standard, on time and on budget. I have no hesitation in recommending Julian, and will continue to turn to him for future works within his specialist field."
"Very professional set up. The GRP work completed is of a very high standard."
"I have always found Julian to be excellent in his field. His colour matching on such repairs being first class. As a loss adjuster, I find this an important client requirement'."
Team Black Tidey 49er FX Staying In the Loop - May-June 2022 Time at home! Since we got back from Hyeres, we have based ourselves in the UK. 8 weeks has flown by with some
Team Black Tidey 49er FX Staying In the Loop- April 2022 2 International regattas this month and our first sail on the new rigs - a pretty full on month with a ton of learning!
Team Black Tidey 49er FX Staying In the Loop- March 2022 Where has the time gone! Two years since we were last in Palma Mallorca due to COVID 19. It is one of our favourite